Leaders across the globe are pivoting from traditional business reviews to a new way of thinking about managing enterprise performance – Objectives and Key Results (OKRs) are taking the world by storm. Originally introduced by Andy Grove at Intel in the 1970s and popularized by their success at Google, OKRs provide a way to continuously measure progress towards an organization's greatest aspirations.
While OKRs represent a much-needed departure from the traditional once-a-year strategic planning cycle, too often their success is thwarted by a lack of appropriate tooling for managing them. Too frequently, companies use some combination of PowerPoint, Excel, Smartsheet, and several other disconnected products to manage OKRs across teams, and thus their implementation is inconsistent with fundamental principles of the framework.
For example:
OKRs should be transparent. However, because they live in multiple, disconnected systems they are unclear across teams
Key Results (KRs) should be up-to-date to drive prioritization, but when they are not easy to update, they become stale and ineffective
OKRs should strengthen focus across teams, but when they are not easily accessible, they become peripheral to daily work
As a result, OKRs often fail to achieve their intended purpose of aligning the organization to a common purpose and agreed-upon mechanism for measuring progress. Our approach to OKR management addresses the friction of OKR implementation by making them accessible across teams, making them easy to keep updated, and linking them to the daily work of specific programs or projects as appropriate.
OKRs in CrossLead Plans
Aligning a company on a set of OKRs is challenging, but the digital process of managing them should be seamless. First, enter your Objectives and supporting Key Results (KRs) in the CrossLead Plan editor. If your OKRs are already written, this process should only take a few minutes.

Once all Objectives and KRs are in the Plan, KRs are linked to metrics. Any metric can be linked – we've seen everything from revenue, to employee engagement, to NPS, to regrettable attrition. Once the metric is added, it can be updated with a single click or automatically via a connection to an external system.
Optionally, KRs can be set to green, yellow, or red status to reflect the current risk. Because KRs are typically measured on different scales with different units, using colors to represent risk provides an easily digestible visualization of whether Objectives are on target. This helps drive attention to the areas where progress is lacking, prompting teams to make pivot-or-persevere decisions about their current approach to achieving the KRs.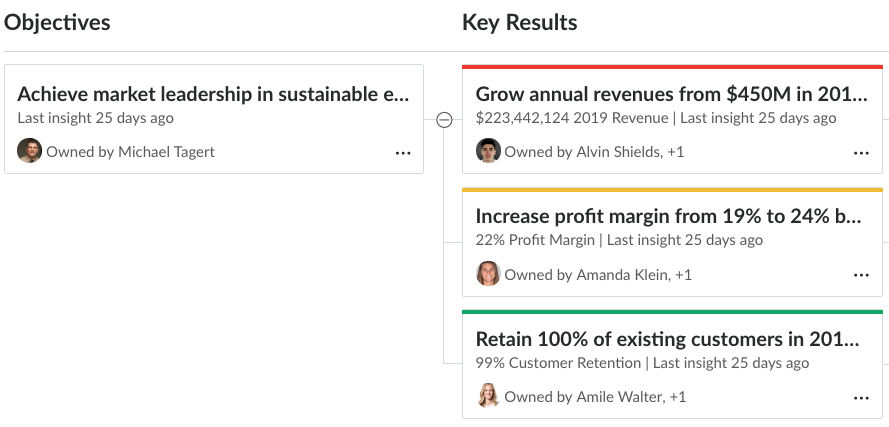 OKRs created in the CrossLead Platform are transparent to all teams by default. While teams are not required to cascade their OKRs from a central company plan, they can create linkages to show how their work connects to the OKRs of other teams. Similarly, if specific projects or initiatives support a particular KR, they can be linked appropriately to inform a thoughtful conversation about the effort the organization is undertaking to achieve the KR.

The bottom line: To achieve their intended purpose of aligning teams across the enterprise to a common purpose, OKRs must be transparent, updated on a regular cadence, and connected to the work teams are doing to achieve them.
By Jess Reif
Director of Research & Development